Aldo Leopold Bench
I came across this super simple rustic bench design from a magazine that my wife's parents gave me.  It's called an "Aldo Leopold Bench".  Named after Aldo Leopold, a famous environmentalist.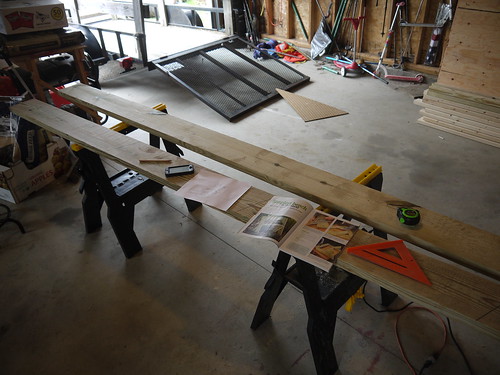 From his Wikipedia article:
Leopold was influential in the development of modern environmental ethics and in the movement for wilderness conservation. His ethics of nature and wildlife preservation had a profound impact on the environmental movement, with his ecocentric or holistic ethics regarding land. He emphasized biodiversity and ecology and was a founder of the science of wildlife management.
It looked like something I wanted to build and quite simple, too.
There are various designs for the bench.  Mine used 2×8 lumber and called for two boards per bench: one 8-foot board and one 10-foot board.
The seat and back were made from the 8-foot board. I cut that board into a 49½-inch piece and a 46½-inch piece. That's a single cut and maximizes the usable wood. The seat is 3 inches shorter than the back because it sits inside the legs (each 1½ thick).
The legs consist of two identical longer leg sections (which also form the sides of the bench) and two identical shorter leg sections. In my bench, the longer legs were 36 inches long and the shorter legs were 17¼ inches long. With my speed square I marked out 22½-degree cuts on each end.  It was a cinch.
Everything is then laid out and screwed together. Once the cuts are made, it's almost impossible to put it together wrong. Just make sure the legs mirror each other.
Love the way it looks.
Ended up making two of them. These are destined to live at the pond near where I'm going to put a new duck house I'm building (more on that later!). We liked them so much, I think I'll make another one for the garden and a couple for the fire pit area as soon as I get a chance.
Shopping List
One 2×8×8 cedar, redwood or treated lumber (seat and backrest)
One 2×8×10 cedar, redwood or treated lumber (front and rear legs)
2½-inch galvanized deck screws
Steps
Mark one end of the 2×8×10 at a 22½-degree angle with a speed square.  Then cut with a circular saw.  Make a mark 36 inches away and repeat the cut at the same angle.  Cut the remaining front leg and two back legs from the same piece (two 36-inch pieces and two 17¼-inch pieces).  Cut the seat and backrest from the 2×8×8 (one 49½-inch piece and one 46½-inch piece).
Fasten the legs together.  Stack the seat and backrest as guides and then align the legs against them.  Fasten legs together with three 2½-inch screws.
Attach the seat and backrest.  Stand the two ends up and screw the seat in place.  Lay the bench down and attach the backrest with screws.
Sources
Leave a comment